From the very first time I placed my babies in their cribs, my baby monitor became attached to my hip. Even though they were just down the hall, the peace of mind that a video baby monitor offered me was enough to calm any new moms' nerves. In my opinion, it is truly a must have on any baby item check-list.
When it comes to video monitors, Summer Infant is a step above the rest – they were the first to introduce a baby video monitor, after all! The company has been around for over 30 years, and they truly know what they are doing when it comes to meeting parents' needs. The Summer Infant Sure Sight 2.0 has lots of amazing features that seem to check off everything on my "must-have" and "would-love-to-have in a monitor" list!
The Sure Sight 2.0's camera has a soft glow nightlight built in that you can control from the accompanying parent handheld device. I especially love this feature because you can turn it on/off from outside the room! There is an enhanced zoom on this latest model, allowing you to get the best look possible at your baby…day or night, as the Sure Sight 2.0 also has an excellent night vision feature. Another important feature I love is the 100% digital technology the system uses, assuring safety and privacy. Additionally, there is the ability to add up to 4 cameras!
I have used a few different monitors over the past four years, but Summer Infant has always been the most reliable product. As you can see, the happy mom pictured who was the lucky winner of her own Sure Sight 2.0 at our Baby Brunch agrees!  The Summer Infant Sure Sight 2.0 video monitor will allow you to take that sigh of relief that your baby is safe, even when you're not in the same room.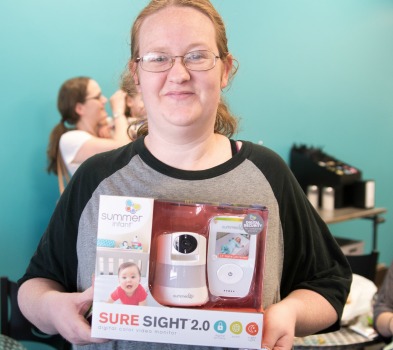 ​