Can we talk a moment?  I want to tell you about one of my biggest parenting fears.  It may sound silly-but I'm terrified of cutting my boys' nails.  Fingernails, toenails-all nails!  It started when Lucas was born-he was so tiny with those paper thin nails.  I remember asking other moms how to do it-waiting for my own mom to stop by and asking her to do it. I was so worried I would chop part of his finger off.  I did that once-cut his itty bitty finger with the clippers-there was blood everywhere. And then I gave up.  
My boys are obsessed with their fingernails and toenails-they ask constantly for them to be cut-and in true 'torture mommy' form-they only allow me to cut one finger or toe at a time.  Getting their full set cut-it can take weeks.  And up until this point, I've literally trained them to ask Grandma for a mani/pedi each time they go to her house!  
And then a couple of weeks ago, the NailFrida Snipperclipper set arrived. (Cue the miracle music).  These nail clippers are nothing short of amazing.  They have curved blades to match the shape of your child's fingers.  Their sharp blades are a cross between scissors and clippers-so you get a smooth and quick cut each time. My absolute favorite feature is the safety spy hole.  This allows you to see through the top of the clippers and see the actual nail you're cutting so that you are 100% accurate-every time.  No more wondering if you're going to snip off the top of their finger. No more saying a silent prayer that there's no blood. The set also includes a curved nail file that makes smoothing rough edges quick and easy.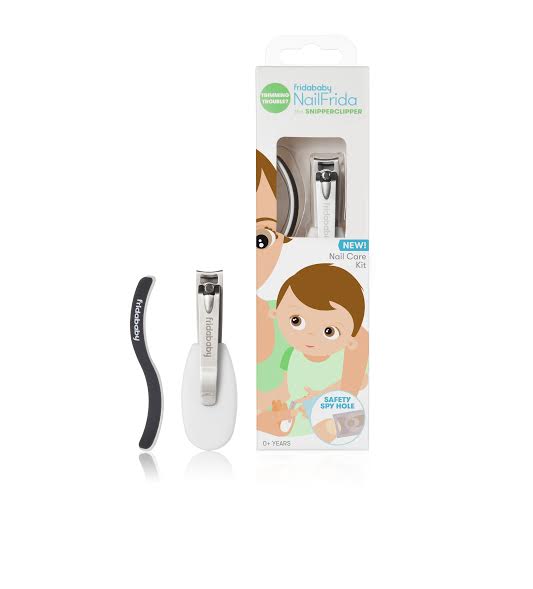 I'm seriously in love with these nail clippers-and from now on, they'll be my number one baby shower gift too!  Eliminate the stress of cutting nails-get yours today!