BOU! Did I scare ya? I hope not, but at least I have your attention! I love this time of year! I get excited just thinking about all the fun fall things I get to do with my family, like apple picking; decorating pumpkins; dressing up in sweaters, boots & jeans; and getting ready for the holidays. It makes me very happy!
I've also taken up a recent interest in using my crockpot a lot more now that my 3 kids are back in school, and we continue to run around town like chickens with our heads cut-off with all of their activities. You know the feeling – you pick your kids up from school; you're freaking out because you have NO idea what you're making for dinner and you're mentally preparing yourself for the biggest battle of your life…the "ah, mom! I don't like [fill in the blank with whatever you made for dinner]! It's exhausting! We all need quick, easy, healthy and flavorful options, so we can just come home and eat! The occasional drive-thru window works, too, but I don't really want to be on a first-name basis with the cashier at the window, if you know what I mean!

That's why I decided to give BOU soup cups a try. They're packed with all-natural, non-GMO ingredients like hearty grains and fresh veggies – making it easy for any busy family to eat a quick & delicious meal in just 5 minutes! Who doesn't love that?! And, with 1 vegetarian, 3 picky eaters, and a husband who doesn't really care what we're having for dinner, I could suit everyone's taste buds! Choose from Classic Chicken & Noodle, Harvest Vegetables & Grain, Shiitake Mushroom & Beef, or Garden Tomato & Quinoa.
I love that the packaging is recyclable! So, not only am I feeding my family something healthy (and delicious!), I'm helping the environment, too! Talk about a win for mom!
They're "soup"er easy to make, as well. You just open the lid, pour the ingredients into the cup, add 10 ounces of boiling water, stir, and let sit for about 5 minutes. Voila! You've got yourself another dinner option for those busy run-around nights. No time to boil water on the stove? No problem! BOU soup cups can also be used in the microwave, too!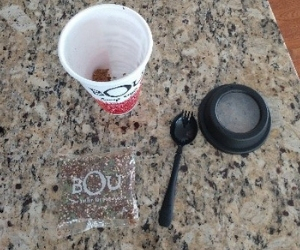 My kids get a kick out of the "spork" that's included in the cup. They think it's hysterical! We're big tomato soup & grilled cheese fans, so we paired one with the Garden Tomato & Quinoa soup. Here's what my youngest thought it: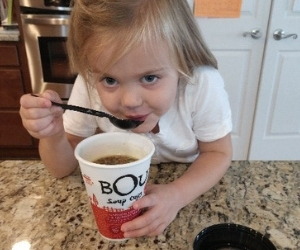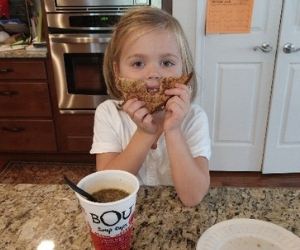 This crew has definitely found another "go-to" meal when we're low on time and in desperate need of a quick meal. BOU soup cups are changing the way families eat, one bouillon cube at a time!



I was provided with product and/or compensation in exchange for my review. As always, opinions are 100% my own.