The holidays are behind us and we're already a solid 3 weeks into the new year. Resolutions are starting to take effect, and our team here at Macaroni Kid – Pasadena-Severna Park has been working hard brainstorming ideas to bring to you and your families in 2019. We have quite a few amazing activities lined-up in the coming months and can't wait to share those with you! Be sure to check our calendar of fun on a regular basis for updates!
Despite the excitement of a near year, however, our team is also bummed to be losing one of our assistant publishers, Ashley. She and her family are moving to another state in February and will certainly be missed. So, to reminisce about her time with us, which just happened to fall on our 3rd moms' night out, we headed to Mother's Peninsula Grill in Arnold to celebrate.
Mother's, as the name alludes, loves their mothers. We couldn't think of a more fitting place to be! Founded in 1997 by brothers Dave and Adam Rather, the mother's brand strives to bring you delicious food, local brews and one-of-a-kind service under one roof. Here are our thoughts about Mother's – they hit the mark on all 3!
M – Menu – Mother's menu is huge, but not overwhelming. They make the majority of their menu items from scratch, so you're guaranteed to have the freshest food available. They've also been nominated for several awards for best brunch, best sports bar, and best buffalo chicken sandwich. Did you know the Heart Attack on a Plate Burger was named ultimate burger by The Food Channel?! Pretty cool, huh? While we didn't try the buffalo chicken or heart attack burger, we absolutely loved the sesame seared tuna bites and loaded brussels sprouts! Don't worry, there's a pretty awesome kid's menu, too!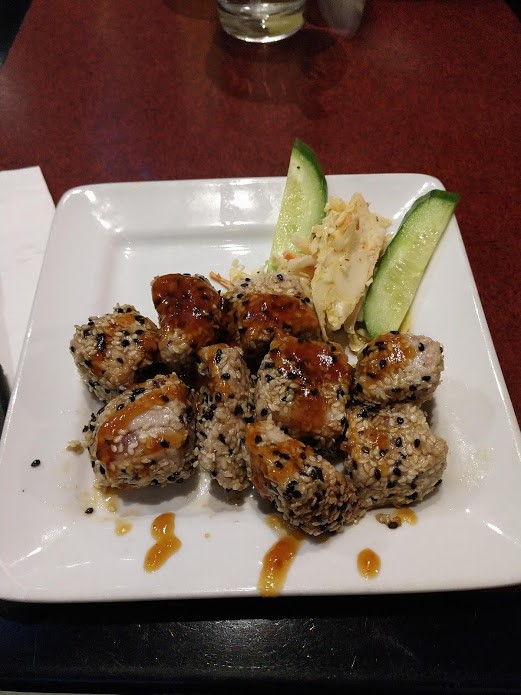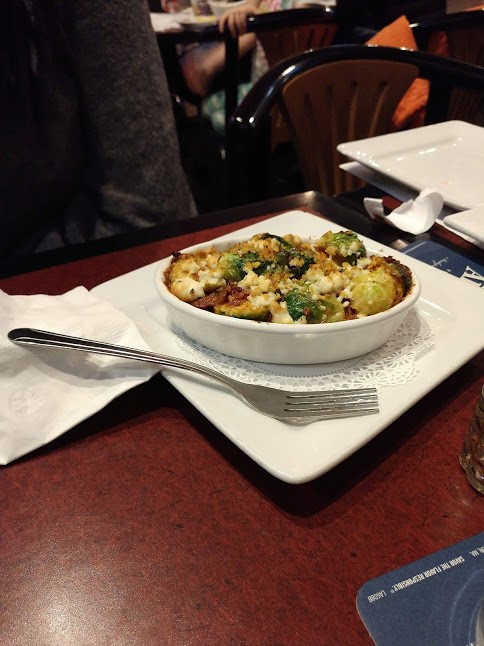 T – Three Locations – Mother's has 3 convenient locations serving Baltimore (Federal Hill Grille), Timonium (North Grille) and Arnold (Peninsula Grille). Make sure to try them all out!
H – Happy Hour specials – happen not only once but TWICE and run from 3-6:30 (M-F) and 10pm – close (7 days a week), which includes both food and drink specials. Check out their website to see more specific details! https://mothersgrille.com/peninsula-grille/specials/
E – Events - Mother's isn't just your local hang-out bar. It also offers a wide variety of fun events for everyone to take part. Coming up, they have their semi-annual PJ Brunch on 2/17 (and a personal family favorite of ours!), a Capitals Bus trip planned for 2/24, Trivia on Tuesday nights at 7:30, Live Music on Wednesday and Thursday nights from 9-12, and DJs on the weekends. There's always fun to be had at Mother's!
R – Raven's Home Games – also known as the Purple Patio (held rain or shine), was named the top place to watch a Raven's game in Baltimore. Bring a group of friends and hang out in the bar area to watch your favorite sports game. They've got dozens of TVs scattered throughout the restaurant, so you'll always be connected!
S – Service – Our server, Emily, was so attentive, super friendly, and very patient with 3 mamas who were too busy chatting-it-up to look at the menu the first 5 times she came to take our order. The hostesses and managers were also very accommodating and gracious, too. It is evident their goal is to make sure their patrons have a great dining experience. We certainly did!
Thank you so much for hosting us, Mother's Peninsula Grille! See you at the Pajama Brunch!