🎃 Anyone else in the fall and Halloween spirit? There's nothing like some crisp fall mornings and evenings for this mood. We're brewing up a lot of fun stuff here at MacKID for October and can't wait to share everything with you! And a bonus: all these activities are outside 🍂
Wine on the Water Festival
Parents, this event is just for YOU. Wine on the Water at Kurtz's Beach is back! It's October 16th and 17th.
And to make it even more fun, we've got FOUR tickets to share with one lucky MacKID subscriber, Facebook follower and Instagram follower. They are good for either day of the festival.
Enter the giveaway HERE. Giveaway ends Thursday, October 7.
ECO Adventures
Registration is open now. Macaroni KID Pasadena-Severna Park-Glen Burnie and Macaroni KID Bowie-Crofton-Odenton will be there too. Come see us and the animals and get treats for the whole family!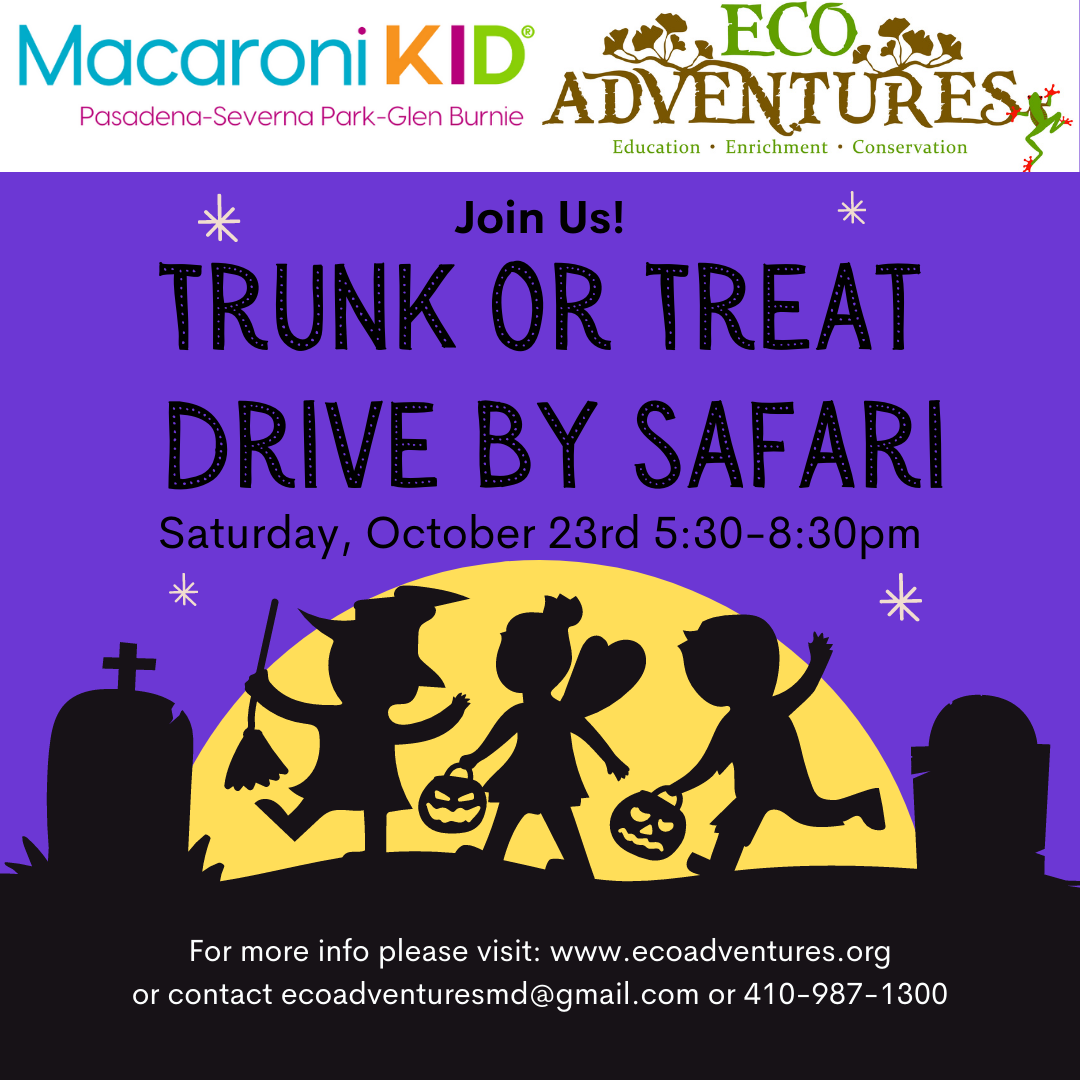 BOO Baskets
We're spreading the Halloween cheer all over northern Anne Arundel County. Watch both our Facebook page and our website for everything you need to know about how to sign your family up to get one! We will be delivering to the first 50 families who sign up. More details coming very soon!
And it's not too late to be a sponsor and add your goodies to the baskets! Contact me at mackidpasadenamd@macaronikid.com for more information.
Trunk or Treats
I am working on a Trunk or Treat guide, which will be out next week, on the website, weekly newsletter and on social media. I want to be sure I have found all the ones happening in northern Anne Arundel County, so please email me info on your company's or organization's trunk or treat this year: mackidpasadenamd@macaronikid.com. Thanks so much!
Fall Carnival at Riviera Beach Volunteer Fire Department
The always-fun carnival at Riviera Beach Firehouse is back next week! It's October 6-9. However, I wanted to tell you about it NOW because advanced all-you-can-ride tickets are only available for purchase until October 5, and they only apply to Wednesday and Thursdays of the carnival. Find more information here.
Fall Fun Day at Kinder Farm Park
The always-wonderful Fall Fun Day at Kinder Farm Park is Saturday, October 9. The event ticket includes a scavenger hunt hayride, straw maze and a pumpkin patch with choice of a pumpkin. However, advanced time tickets are required, and registration closes on Wednesday 10/6 at 12:00 AM.
Click here to register.
October is going to be an awesome month for family fun. I hope you're as excited as I am!
All my best,
Laura