👻 BOO! MacKID BOO Baskets are coming to a doorstep near you! 👻 Find out all the details below as well as info on other exciting events happening this weekend!
🎃Boo Baskets
Starting this Saturday, October 16 at 8:00 AM, you will have the opportunity to sign up for one of 50 free BOO Baskets from MacKID! They will delivered right to your front door by our own MacKID team. Watch for an email from us on Saturday morning, and a link will also be available on our website and Facebook page at 8:00 AM on the 16th.
The first 50 families to sign up will have a basket delivered sometime October 21-26. The exact date and time will be a surprise. To keep the fun going, you are invited to "BOO" another family with another basket of Halloween goodies.
Please note: you must live in the MacKID territory of Pasadena-Severna Park-Glen Burnie and surrounding towns, which include the following zip codes: 21012, 21056, 21060, 21061, 21077, 21090, 21108, 21122, 21144, 21146, and 21240. When you sign up, you will give us your address.
Our baskets are chock FULL of all kinds of treats, including a coloring book, glow stick, dry erase board, peanut cup, coupons, plush toy, sanitizer, stickers, chocolate crackers, pretzels, and of course, CANDY! There's something for everyone in the family.
Huge thanks go to our generous sponsors of the BOO Baskets: Real Estate Agent Liz Parrott (Title Sponsor), Curmudgeon Books, Jing Ling Institute of Kung Fu & Tai Chi, Texas Roadhouse in Pasadena, Pigtails & Crewcuts, A to Z Education Consulting and Airly Foods.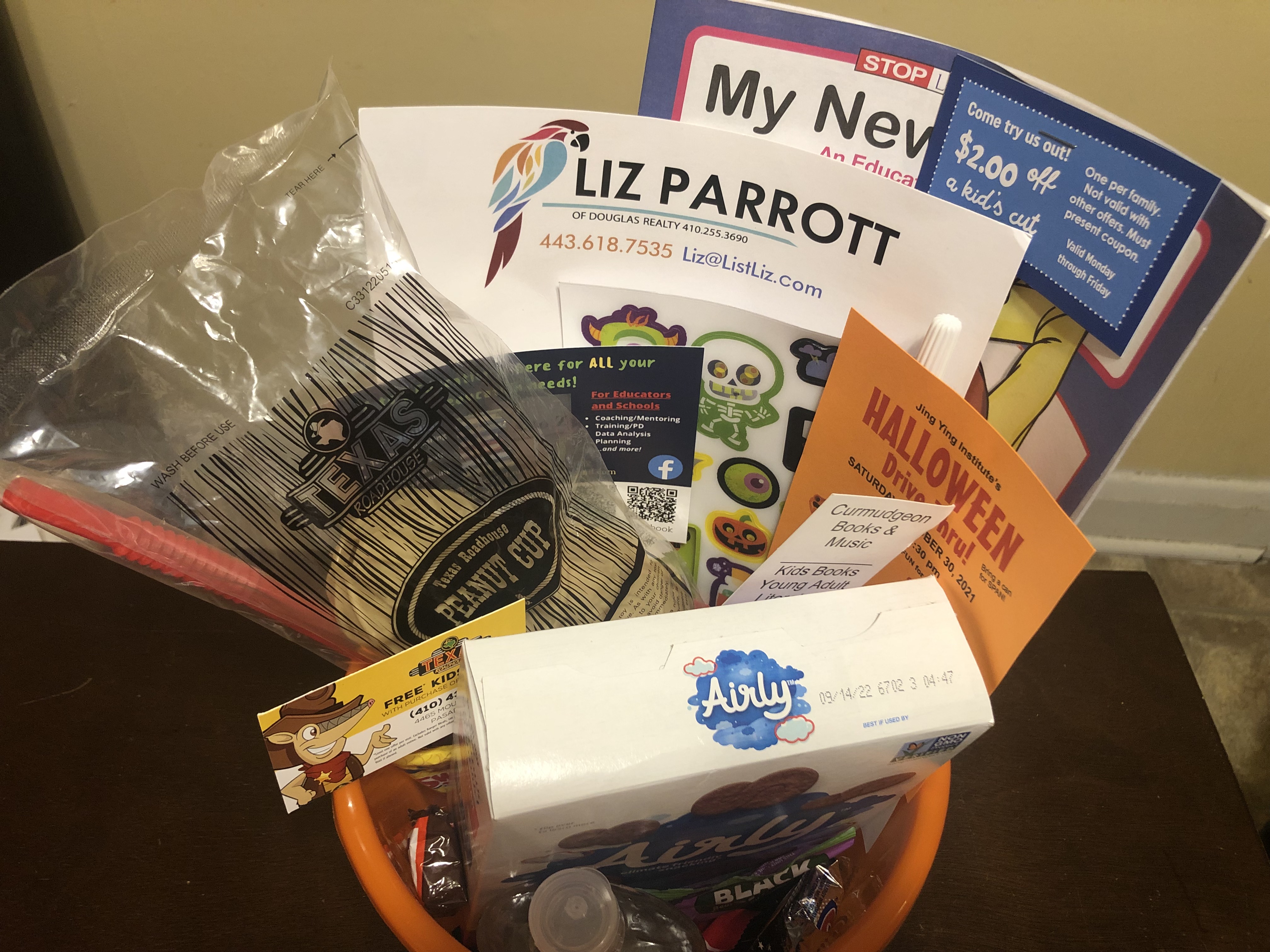 📝This Week's Newsletter
We've updated the Trunk or Treat guide that we put out last week about trunk or treats and other Halloween events happening right here in northern Anne Arundel County. So many more events have been added. This going to be a GREAT Halloween season!
Also, check out other articles in this week's newsletter: We're excited to share with you my and my Mac Kid's great experience with the British Swim School, and also learn about a local Pasadena girl raising money for cancer research and your opportunity to contribute.
📅The Calendar
There's so much do this weekend! Check out the calendar here. Some of the highlights include Wine on the Water festival at Kurtz's Beach, pumpkin carving demonstration at Homestead Gardens, outdoor family movie night at Severna Park Evangelical Presbyterian Church, family festival and cornhole tournament at Primo Pasta Kitchen, and the Happily Ever After Princess Company Trick-or-Treating and Sing-Along. (Sadly, the Happily Ever After Princess Company is closing, and this is their last event, so you won't want to miss!)
Looking ahead for your calendar are two awesome events! Howlaween Drive By Trick or Treating at Eco Adventures is on Saturday, October 23 from 5:30-8:30 PM. Preregistration is required. It's going to be a fantastic evening of meeting the animals, games, prizes, candy and other treats. Load up the kiddos and bring the whole family--it's one price per vehicle! MacKID will be there, so please say hello 👋
Also, on October 23, from 11:00 AM - 3:00 PM, is Shoptoberfest at Park Plaza in Severna Park. MacKID will be there too, so be sure to stop by our booth!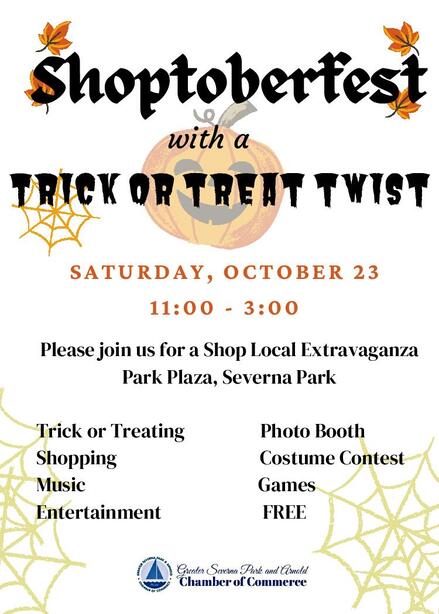 Have a great weekend!
Laura