Recently I had the pleasure of meeting Patti Bateman Tracey, a children's author from Pasadena. Within the past 2 years she has published two children's books, Josh's Treehouse: A Captain's Adventure and Josh's Treehouse: An Astronaut's Adventure. Learn all about her and the books from the Q & A I had with her.
MK: Tell me about your books and how you got started.
I actually wrote Josh's Treehouse when I was in high school. Over the years, several people said they would draw the pictures for me, but it never happened.
Right before COVID hit, I was at a women's leadership conference, and met a woman who said she was a local publisher. She made the book happen. Her company, a hybrid publisher in Towson, made the illustrations.
MK: What were the inspirations for your book?
I would visit my grandparents during the summer, and we had to use our imagination. I always thought it would be cool to have a treehouse built. So I thought it would be neat if Josh had his grandfather build him a treehouse.
MK: How did you second book come about?
I did not want to stop with one adventure. And since we were trying to pique children's imagination, I wanted to continue with Josh's adventures. My grandmother always wanted to be an astronaut, and thought I would go with that.
MK: Do you plan to continue writing?
I do. I just finished a novel that is not for children that I plan to publish, and I also plan to continue with Josh's adventures.
MK: How did you transition from children's books to an adult novel?
With each of the Josh's series, there is something that inspires me to write. I got inspiration from a TV commercial to write an adult novel. I plan to contact literary agents to publish the novel.
MK: Have you written as a career?
No. After I retire, I would like that to be my retirement adventure. I think all authors aspire to be the next James Patterson or J.K. Rowling. I've dabbled in poetry too.
MK: How does it feel to be called author?
It's surreal because the manuscript has been sitting on my shelf for 30 years, and I always wanted to share it. When I got the proof copy, it was just amazing to hold it in my hand.
MK: You never gave up on your dream. What happened in the intervening 30 years that kept the dream alive?
I would find out someone was a graphic artist, and they would express interest in doing illustrations for the book, but it never happened until recently. I would shelf the manuscript, but always knew that sometime it would happen.
MK: How much did feedback inspire you to write your second Josh's Treehouse book?
I received positive feedback from my readers, and the majority of them said it would be a great series. That sparked in my mind, "Let's write another!"
When I got my first book published, it didn't matter if I sold another book or never. It was just a great accomplishment to have it. But people wanted more. It's important for kids to read books to foster imaginations and to think through their own problems.
MK: Where can people purchase the Josh's Treehouse books?
My website. 10% of online sales go to St. Jude's Children's Hospital, and I have also donated books to the hospital.
Park Books in Severna Park and some online retailers also carry my books.
Find Josh's Treehouse website HERE.
Patti was born and raised in Pasadena and has raised her family in Pasadena as well. She has a 21 year- old son and 19 year-old daughter. She also had 5 adopted pets, 3 cats and 2 dogs. Patti enjoys all kinds of music, and plays trivia weekly at a Pasadena bar.
She also regularly reads her books at Park Books and Literacy Lab in Severna Park. Check their website for future readings with Patti.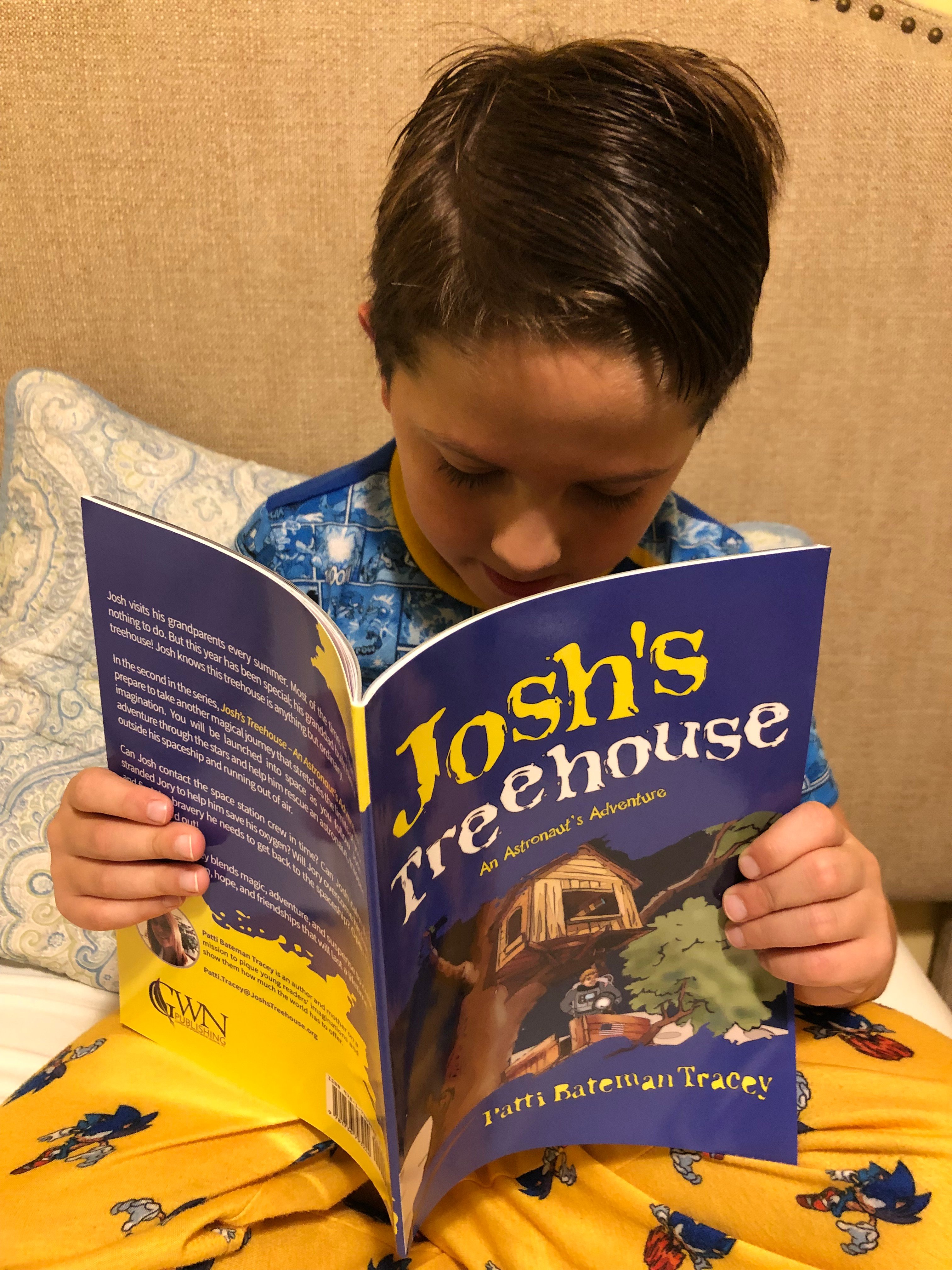 Editor's Note: My son Quinten has loved reading the Josh's Treehouse books. The day after he read the first one, I asked him what books he wanted to read that night for our bedtime stories, and he said he wanted to read the next Josh's Treehouse book. Quinten said about the astronaut book, "I loved that Josh has his own imagination, and I can't wait to read the next one!"
You'll get your chance to WIN signed copies BOTH of Josh's Treehouse books in our HO HO Hometown Holiday giveaway next month. Stay tuned for details next week on how to enter the contest!
Don't forget to check our calendar for other fun events and activities HERE.
Want to be one of the first to know about all of the awesome, family-friendly events and activities going on in Pasadena, Severna Park, Glen Burnie and surrounding areas? Get your FREE local event calendar in your inbox HERE.
Know of a great local event that isn't on our calendar? Submit it HERE.